Play Hard, Play Smart, and Have Fun!
"Play hard, Play Smart, and Have Fun!" That is the motto of Jan Azar, Head Coach of the Wesleyan Lady Wolves. And she goes on to state, "A lot of coaches forget the last one – You have to have fun!" And that is exactly what the Lady Wolves of Wesleyan have done, winning 5 straight Georgia Class A State Championships and 9 over the last 15 years! During her stint at Wesleyan High School, Coach Azar has posted a 381-81 overall record and a 145-21 record over the past five State Championship runs.
Coach Azar wants to provide an environment that leads to success on and off the court. She says, "Our goal is to prepare our kids for life after high school. If you are successful off the court, it will lead to success on the court." Coach Azar is committed to providing the resources necessary for her players to attain success on the basketball court. During her time at Wesleyan, the Lady Wolves work daily on the two Guns they have, from Shoot-A-Way. "We use the Gun daily in practice during our season. We have a station in every practice with 2 to 3 girls shooting on the Gun. The Gun is great for shooting, but it helps more so with players getting low and ready to shoot.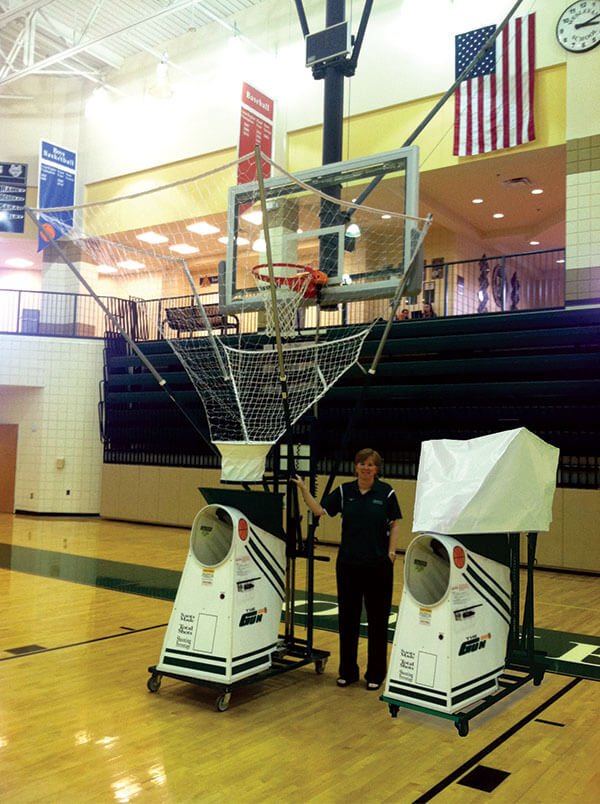 The crowd ooohhh's and ahhhh's when somebody dunks the ball, but a dunk is only worth 2 points. If you can shoot the 3, then we believe someone has to guard you! Not everyone has the talent to take someone off the dribble, but the Gun allows everyone the ability to become a great shooter."
We want to congratulate Coach Azar and the Wesleyan Lady Wolves on their 5 straight Georgia High School State Championships. With a commitment to excellence on and off the court, Coach Azar has established a program achieves success consistently year in and year out. In our book, we would define that as definitely having fun! Our Goals, Your Goals reached!