It All Comes to Numbers
It all comes to numbers….and these are the numbers that matter most to Head Coach Matt Garrett over the past 10 years: 3 State Championships, 4 Final Fours, 21 National Records, 5 GUNS and 2 Shoot-A-Way's. Through the past decade, Coach Matt Garrett has coached Girls' Basketball at four different schools in the state of Texas, and has purchased 7 machines from Shoot-A-Way. Now at Hamilton High School, his players use both of their Guns every day to help save time and get plenty of shooting repetition.
Coach Garrett started his tenure at Nazareth High school in 2000, where they won 3 State Championships using two Shoot-A-Ways! During his tenure there, his teams set 18 National Records. Some of which include: 3 pt. attempts in a season – 1005, 3 pt. attempts in a game – 41, 3 pt. made in a game – 15, 3 pt. shooting % by a player – 48.1%, and highest team FT % in a season – 76.4%. Coach Garrett then went on to Bowie High School, where in 2008, his team made 20 3 pt. shots in a game and then made it to the 2009 State Final Four.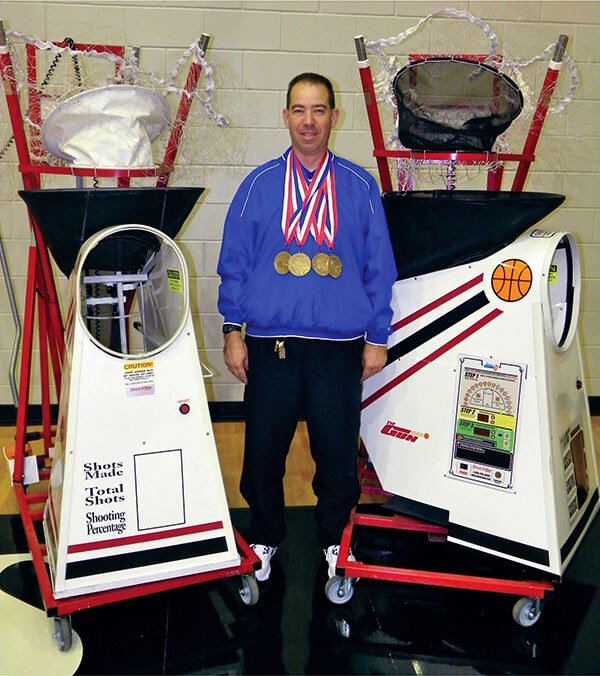 Coach Garrett now presides at Hamilton High School in Texas where you can still find his players making 1000 3's and 1000 FT's on the Gun in the pre-season. Then, during the season, they each will make 50 3's and 50 FT's every day – No Excuses! Coach Garrett states, "We use both Guns daily in practice, and we flat try to wear them out!" Our goal is for his players to wear out before the Gun does. That is why every Gun comes with a 5-year warranty! We want to congratulate Coach Garrett and continue to provide his team with the resources to succeed. Our goals, your goals reached!