In Consistency, Lies the Power
In consistency, lies the power! This is the motto of National Coach of the Year Candidate Rocky Clarke, who has led the Lady Warriors of Washington high school to the Oklahoma State Basketball Tournament for nine straight years. This includes five appearances in the State Finals, two in the State Semifinals, and two in the State Quarterfinals. To put the icing on the cake, Clarke's Warriors brought home Oklahoma State Championships in 2003, 2004, and 2007.
So, how did Coach Clarke create an atmosphere of consistency that has led to 214-37 record over the past nine years at Washington and 14 State tournament appearances over the past 15 years? Coach Clarke explains, "If you want to be great at something, you have to spend an hour every day working to grow in that area." So, in 1995, Coach Clarke influenced his players to increase their level of commitment and shoot 450 shots every day, 7 days a week, 365 days a year. This includes 300 3-point shots from three different spots, 100 pull-ups off the dribble, and 50 free throws. Here's the kicker – Coach Clarke has used the Shoot-A-Way since 1983 and has had a "Gun" since 2003. He states, "With the Gun, a player can get 100 3-point shots up in 6 minutes, so it takes 18 minutes to shoot 300 3-point shots. A player on our team should be able to shoot 450 shots in 45 minutes, easily." Once a player develops the proper shooting form through repetition, Coach Clarke expects his players to advance from taking 450 shots to "making" 450 shots. "That's just something you've got to do to play for us. No excuses! With the Gun your limited time can be used efficiently."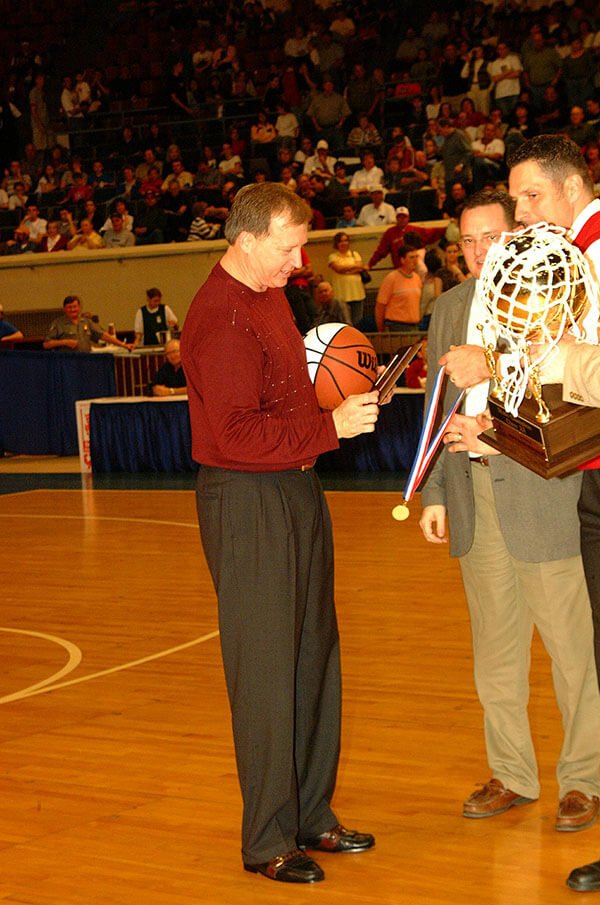 With 735 career wins, Coach Clarke remains humble while discussing the fact that his teams have competed at the state tournament a staggering 95% of the time throughout his coaching career. He concludes, "All of this means nothing if the glory is not given to God. In consistency, lies the power!" Since 1983, Shoot-A-Way has been a proud partner of Rocky Clarke coached teams. What's in your gym?