Coach West
"The Gun is what put us in the State Tournament the last two years and is the reason we won the State Championship." These are the words of Marshall County High School's new Head Girls' Basketball Coach Boyd West. Coach West was the assistant coach over the past two seasons and is part of the Marshall County Girls' basketball team that posted a 67-14 record during that time, including a 2008 Tennessee State Championship.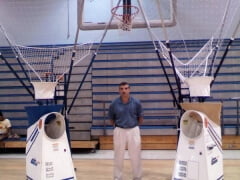 Coach West started incorporating the "gun" into the team's daily shooting routine in 2005 and believes in it so much that Marshall County just purchased their second "gun" in August. Coach West exclaims, "We shoot on the gun everyday." The Marshall County Lady Tigers have a shooting program that utilizes the "gun" to get up at least 200 game shots per individual in each session. With their up-tempo style of play, Coach West believes the "gun" has made a huge improvement in the Tigers' overall shooting percentage. "We are a run and gun team. With the gun, we were able to catch and shoot much quicker." Coach West's senior point guard was a prime example of the improvement he has tracked. In her sophomore year, she shot 28% from behind the 3-point arc, which improved to 36 % her junior year. But, after 2 years of work on the "gun", she was shooting 51 % from behind the 3-point line during her senior season. His senior shooting guard, Jessica McQueen, was also further evidence of their success hitting 83 3-point shots during the 2008 campaign.
Coach Boyd West goes on to explain, "The gun has motivated our kids to get in and shoot on their own." And after seeing the results, who can argue? After being state runner-up in 2007 and winning the Tennessee State Championship in 2008, Coach West has now added another "gun" to his arsenal for players to improve on a daily basis. With this type of belief and commitment, we commend Coach Boyd West and the Marshall County Lady Tigers for their hard work and dedication to continuous shooting improvement. Your goals – our goals reached!! The Gun by Shoot-A-Way, Got yours??