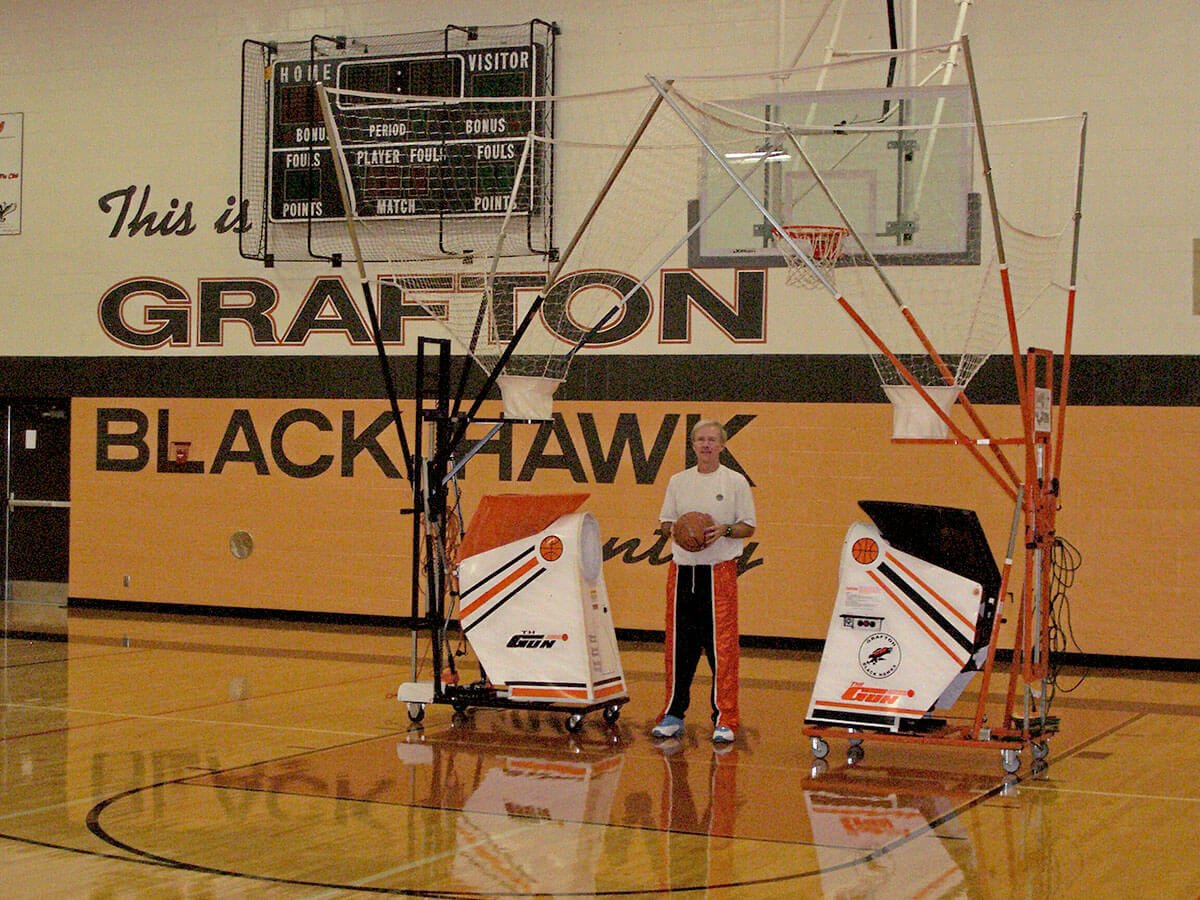 Coach Maronde
There is an old saying: champions don't become champions in the ring—they are merely recognized there. If you want to see where champions are developed just look at their daily routine. For Bob Maronde, 2009 AP Coach of the Year in Wisconsin, this statement rings true when it comes to the work ethic and commitment of his Grafton HS Lady Black Hawks.
Four years ago, Grafton High school purchased their first "Gun", by Shoot-A-Way. Since that time, the Lady Black Hawks have posted an 89-10 overall record, reached the Final Four in 2008, and won State Championships in 2007 & 2009. Could there be a reason for their consistent success? According to Coach Maronde, in 2007, the senior captains of his team created an inter-squad challenge where upper-classmen competed against under-classmen in a 15 spot shooting challenge using the "Gun". All made shots were combined and recorded by the coaching staff and players to crown a champion. During this past off-season, from the 1st of August to the 2nd week of November, over 50,000 made shots were recorded for the Lady Black Hawks. That's right!! Over 50,000 made shots in less than 4 months. As Coach Maronde explains, " Kids will work, but they want to see an end result. With the "Gun", they can see improvement everyday. It's one thing to get kids to come into the gym and work on their game, but when you have a "Gun", it makes it fun for them and it's tough to keep them out of the gym."
The second Gun has really made a difference in our off season shooting. Since the beginning of June, the girls have shot over 150,000 shots on each machine. The incoming freshmen enjoy it so much, I've had to open the gym 5 days a week to accommodate everyone. Thanks again.
– Bob Maronde, Head Girl's Basketball Coach, Grafton High School, 2007, 2009 State Champions
So, how did this off-season shooting practice help the Grafton Lady Black Hawks during the two biggest games of the year? During the Wisconsin State Semi-finals and Finals, the Lady Black Hawks shot 52% from the field and 80% from the free throw line! Maybe the age-old saying is true – Champions don't become champions in the ring—they are merely recognized there!
Coach Maronde ended by saying, "I just told our new captains we ordered our 2nd "Gun". They are so excited, because with two "guns", they won't have to wait to shoot any more." Our goals, your goals reached!!