Coach Youngblut
When you lead the nation in field goal percentage, there's a pretty good chance you might be cutting down the nets at the end of the year. In 2011, the Bellarmine Knights did just that. Under the leadership of Head Coach Scott Davenport, the Knights led the nation in all divisions of college basketball in field goal percentage and won the 2011 D-2 Men's Basketball National Championship. It might not be a coincidence that the Knights have had a Gun, from Shoot-A-Way, since Coach Davenport arrived, and they just added a brand new 8000 Series Gun to their arsenal this past month. When asked about the Gun and how it aides to the success of their shooting, Coach Davenport explains, "By design with the net, requirement of arch, and the data it can produce, it is a really amazing teaching tool. The size of our university allows our players to have access to The Gun most hours of the day, so players can aspire to be the best they can be."
But, it's not just the great shooting that makes Bellarmine a champion. When we asked Coach Davenport what the key attribute was to their success, He explained, "It is our recruiting process.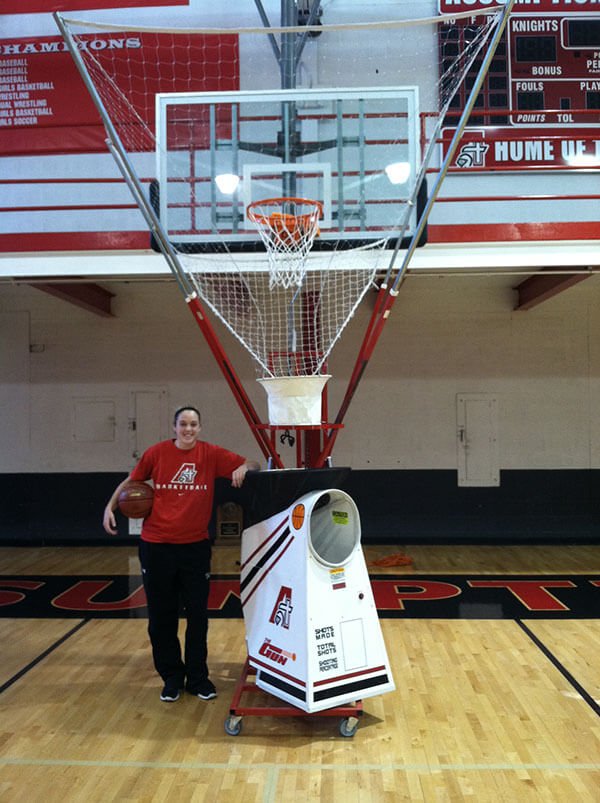 The greatest recruiters in our program are our players. We recruit great people who others want to play with. I am as proud of these gentlemen off the court as I am the day we walked off the court with a championship trophy. They are truly, truly, wonderful people." Coach Davenport went on to explain, "College should be the greatest four years of our player's lives and we want them to use basketball to help prepare them for the next 40 years of their lives. We don't want to use them for basketball."
As you can see, Coach Davenport and the Knights' program have high standards of excellence on and off the court. It might not be a surprise, but all of his players have a 3.0 gpa or better. So, not only are the winning on the court, they are winning off the court as well. When you talk with Coach Davenport, you get a true sense of his humility, and the respect and appreciation he shows others. In closing, he showed his appreciation to Shoot-A-Way by saying, "In this day and age, customer service many times is hit or miss. We just truly appreciate the tremendous service we receive from all the people at Shoot-A-Way."
And we want to return the favor by saying "Thank You" to Coach Davenport and the Bellarmine Knights. Congratulations to the Bellarmine Knights on 33-2 National Championship Season! Your goals, our goals reached!