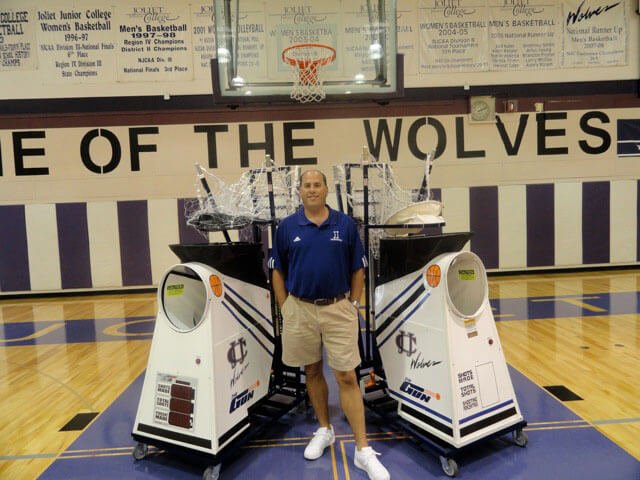 Coach Kuhn
The past 2009-2010 basketball season was definitely a successful one for Coach Joe Kuhn and the Joliet Junior College Wolves, as they won the NJCAA Division III National Championship. Not only did the Wolves post a 30-5 overall record, the best in school history, but Coach Kuhn was named the NJCAA Division III National Coach of the Year. As Coach Kuhn moves into his 14th season at Joliet JC, he wants to provide his players with the best resources possible. So, this past May, Coach Kuhn purchased a new 8000 Series Gun, from Shoot-A-Way, to go with the 6000 Series Gun the Wolves have used for the past few years.
Coach Kuhn credits much of the Wolves shooting success this past championship season to the extensive shooting his players put in since the previous May. Coach Kuhn explains, "The number of shots our guys got on the Gun this past season really improved their confidence. I want our players to shoot so many shots during the summer that when the ball leaves their hand in the season, they know it's going in." On many nights, players would shoot 1000 to 1200 shots a night, and that was with one 6000 Series Gun. Now, the Wolves have added a second to their arsenal, and Coach Kuhn is more excited than ever. With the Wolves ranked #1 in the 2010-2011 NJCAA Division III polls, there is no reason to believe they won't shoot their way to another National Championship.
Congratulations to Coach Joe Kuhn and the entire Joliet Junior College Men's Basketball Program. We wish you the very best in the upcoming season. Keep Shooting!