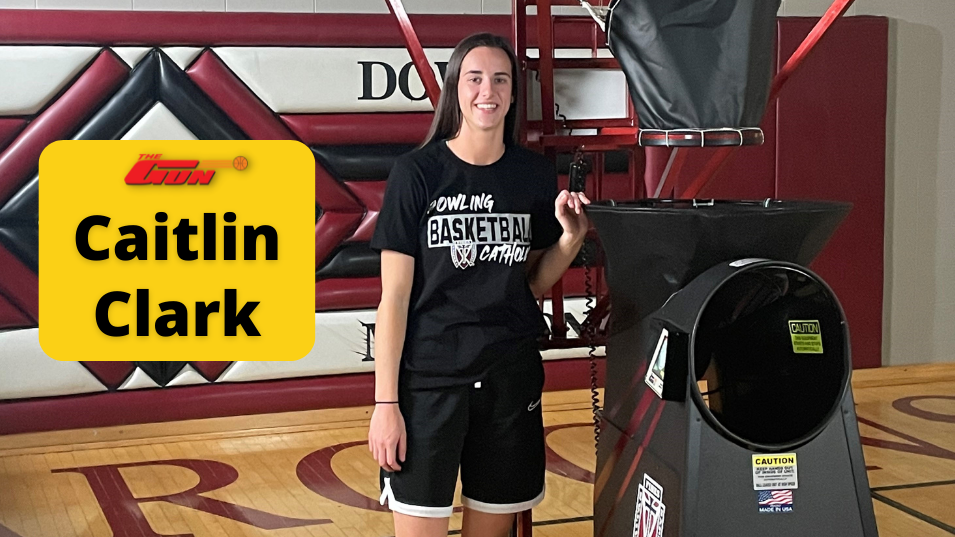 Caitlin Clark Teams Up with Shoot-A-Way
Iowa's Caitlin Clark teamed up with Shoot-A-Way to donate a Gun basketball shooting machine to her alma mater, Dowling Catholic High School. Caitlin has been using The Gun for years and wanted to give back to her alma mater's basketball program with a new Gun. In this video, Caitlin also talks about how she uses The Gun in her own workouts.
For the 2021-22 season, Caitlin led the country in assists per game (8.0), points per game (27.0), final points (863), free throws made (200), triple-doubles (5), and 30-point games (11) and ranked second in total assists (257), third in field goals made (286), fourth in free-throw attempts (227), 12th in 3-pointers made (91), 14th in 3-pointers per game (2.84), 18th in double-doubles (17) and free-throw percentage (88.1) and 19th in defensive rebounds per game (7.6). She has reached over 1,500 career points at Iowa in just 2 seasons. This makes her the fastest in the past 20 years in Division 1 basketball (men or women) to reach this milestone!
Here are a few other accomplishments she has earned in her career so far:
Nancy Lieberman Award (2022)
Dawn Staley Award (2021, 2022)
Unanimous first-team All-American – AP (2022)
First-team All-American – USBWA (2022)
All-American – WBCA (2022)
First-team Academic All-American – CoSIDA (2022)
Second-team All-American – AP, USBWA (2021)
USBWA National Co-Freshman of the Year (2021)
WBCA Co-Freshman of the Year (2021)
Big Ten Player of the Year (2022)
2× First-team All-Big Ten (2021, 2022)
Big Ten Freshman of the Year (2021)
McDonald's All-American (2020)
Iowa Miss Basketball (2020)