Ben Ries
Dear Shootaway,
Thank you for helping take our program to the next level. In May of 2002, when I became the Head Coach at Norfolk, NE HS, the first thing we did was purchase the Gun 6000. In May of 2005, NBA star and former Creighton player, Kyle Korver came to our gym and incorporated the Gun into his shooting demonstration. A 7th grade boy in the crowd that day named Jalen Bradley began shooting and recording the day after Korver left. He has not stopped using the Gun since. As a sophomore this year, Jalen Bradley led Nebraska in 3 point FG made (85) and percentage (51.2). Furthermore, he hit 42-43 FT's for the year. He is the best shooter at his age I have ever seen. And the most committed!!
It is more than an individual thing at our school. Our team shot an unbelievable 76.1% from the FT line and 44.1% from the 3 point line. In fact, going into the state tournament our HS team would have led NCAA Division I in FT percentage and 3 point FG percentage.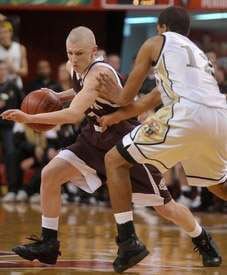 Since June 9, 2005, Jalen has kept a running total of jump shots made. Last we heard, he had made 509,000 jump shots!
Our team finished runner-up to Omaha Central in the Nebraska State Tournament this past weekend. Our focus now shifts to the summer. Participation and excitement for Norfolk Basketball is at an all-time high. We are interested in purchasing additional gun(s) machines. Are there special price quotes for purchasing more than 1 machine? We definitely need at least one more.
Looking forward to hearing from you.
Sincerely,
Ben Ries