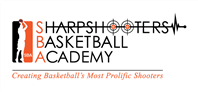 Generational Shooting Improvement – Luck "Coach Deebo" DesRevines – High School State Championship Coach, Trainer. Sharpshooters Basketball Academy – Charlotte, North Carolina
We here a Shoot-A-Way take so much pride in our lifetime partners and advocates, coaches. 37 years as the trusted leader in the industry will build you that kind of network of great coaches and advocates.
I recently had the pleasure of working with Coach Deebo, a two time state champion turned trainer in the Charlotte area. Coach Deebo knew that having a Gun at his new training facility, Sharpshooters Basketball Academy, would make an immediate impact on how he would be able to train his athletes. Below he will tell you why it was an easy decision to go with the best, most reliable shooting machine on the market!
"I was hired for my first coaching job in 2002 and the school had the original 6000 Gun. For some odd reason, the Gun was locked in the storage closet and seldom was used. I started using it throughout our pre-season training and it became a staple in our daily practice. I was able to win the State Championship 2 years in a row and I credit The Gun for helping us with our shooting skills.
"Fast Forward: Though I'm no longer coaching, I'm still teaching young athletes how to shoot the basketball. When I decided to open up my shooting academy (Sharpshooters Basketball Academy) in Charlotte, North Carolina, I contacted Shoot-A-Way immediately to see what promotions they were having at that time. I was told by other trainers to order Dr. Dish but I decided to go with The Gun because I had much success with it when I was coaching, so I'm certain with its advanced features, my clients will yield the best results from using The Gun."
Conversations with coaches, much like Coach Deebo and I's, inspired me to create this series of blogs. To highlight our awesome lifetime partners as well as to show that we truly are "Proven by the Best"!
Again, we love to hear this from you all so if you have a similar story to Coach Deebo, give me a shout!