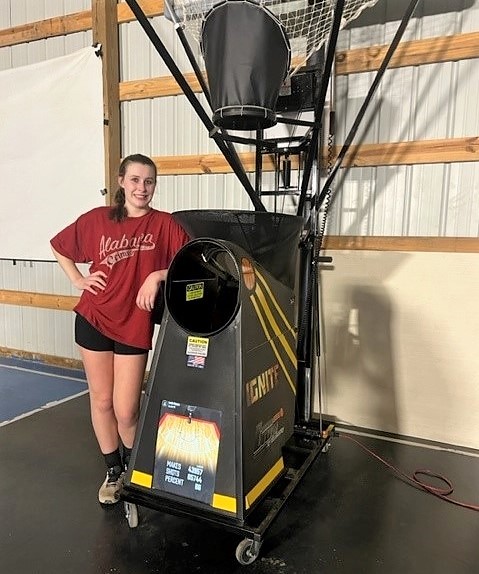 Leslie Hames Is Crushing Her Goals With The Help Of The Gun
Leslie Hames was 8 years old when she started using The Gun 8000 to work on her shooting. By the time she was 12, she had put in over 250,000 shots on that machine. Then Leslie's dad, Matt Hames, upgraded her to The Gun 12K to better track her progress using the advanced analytics and stat tracking features. Now 15 years old, Leslie is already seeing results from her hard work and dedication. She is currently averaging 18.4 points, 6 steals, & 3 assists a game at Priceville High School (AL) as a Sophomore. She is just 120 points away from getting her 1,000th point.
Leslie broke her school record this season for threes in a game with 10 total for the night against Madison County. Those 10 threes put her tied for 11th place all-time in the State of Alabama. Leslie has currently hit 99 threes for the year and is on pace to have 125 for the year which will put her 5th all-time in the record books as well. She currently averages 6 three-pointers per game!
Leslie's goals for her Junior year are to score 25 points a game, break the Alabama State record for most 3's in a game which is 18, break how many 3's made in a year which is 157, break the highest 3 point percentage in a career, and become the all-time leading scorer at her school which is 2137 points set by Kathleen Wheeler.
Leslie shared with us her shooting workouts during the season, in the off-season, and which drill she likes the best on The Gun 12K.
Workouts during the season:
200 Catch & Shoot 3's made – from right & left corner, right & left wing, top. I never get a ball straight from the gun always get my dad or sister to pass from somewhere from the gun. Unless I'm by myself, then it's straight from the gun.
200 Free Throws Made. 10-second count on each one as if I'm in a game situation. Concentrating on breathing and thinking about every shot to insure perfection in form and mindset.
100 Step Back 3's made – right & left wing. Catch the ball from a pass from dad or sister then a two-dribble step back.
100 15 Foot dribble shots. Starting from the 3pt line I get a pass straight from The Gun and do a 2 to 4 dribble combo move then shot.
Her most recent challenge was a 22 Day, 15,000 make-the-shot event that detailed – Drive and Shoot 15 Footers, Catch & Shoot at 5 different location 3's, Game time Free throws, and step back 3.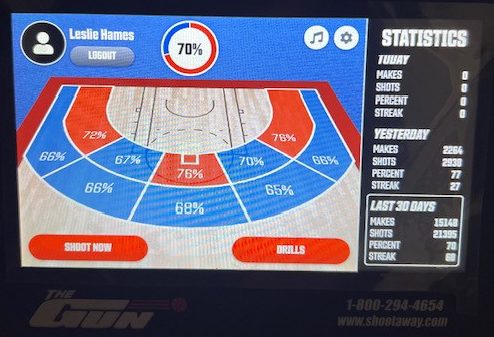 Off-season shooting:  
"Usually right after the season is over I will take a week off, maybe two. Then I will really start ramping my reps up by doing a similar regimen as my in-season scheme. Typically 1,000 makes a day 5 to 6 days a week in the off-season."
Her favorite drill on The Gun 12K:
"I love the PGC drills.  Especially the Corner Burn drill. My best on a 3-second time is 71. It's not easy. My dad played college basketball and I have looked to his guidance a lot with my shooting he also duals against me a lot in these drills which makes me better. We do a lot of contact drills incorporating the shot and some no shooting just working on contact."
Shoot-A-Way wishes Leslie the best of luck as she heads into the off-season, we look forward to seeing her crush more of her goals in the coming years!