State Champions: Kings Ridge Christian School Shoots Their Way To The Top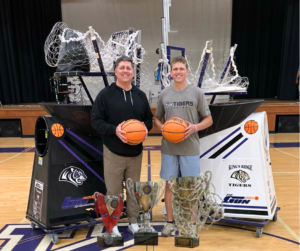 King's Ridge Christian School (GA) has emerged as a powerhouse in high school basketball, boasting an impressive track record of success over the past few years. With three consecutive 20-win seasons, a region championship, two state finals appearances, and a state championship, the school's basketball program has proven its mettle on the court. A significant factor behind their achievements is their effective utilization of The Gun basketball shooting machine.
At King's Ridge, the basketball program has embraced The Gun as an invaluable asset in its training regimen. It has revolutionized their approach to three-point shooting, enabling them to achieve remarkable results. Over the past four years, King's Ridge has consistently ranked among the top five in three-point baskets made in the state of Georgia. With an impressive tally of 969 threes, shot at an impressive 40% success rate, the team has showcased their prowess beyond the arc.
The Gun has proven to be a game-changer for King's Ridge, offering several advantages that have contributed to its success. First and foremost, the machine allows players to accumulate a significant number of reps, honing their shooting skills and developing muscle memory. By simulating game-like shooting scenarios, The Gun helps players refine their technique, accuracy, and quick-release capabilities.
Additionally, The Gun provides a consistent and accurate pass, ensuring players receive the ball in the same spot every time. This feature helps improve shooting consistency and builds confidence among the players, as they become accustomed to the precise delivery of the ball. Moreover, the machine's programmable drills allow coaches to tailor training sessions to specific game situations, further enhancing players' skills and decision-making abilities. The ability to consistently make three-pointers at a high percentage has undoubtedly given King's Ridge a competitive edge.
King's Ridge Christian School's basketball program has established itself as a force to be reckoned with in Georgia's high school basketball landscape. The team's string of successes, including multiple championship appearances and a state title, are a testament to their dedication and effective training methods. By incorporating The Gun into their training regimen, King's Ridge has allowed their players to sharpen their skills, achieve shooting consistency, and deliver remarkable results on the court. As the program continues to thrive, King's Ridge inspires aspiring basketball players and teams looking to achieve excellence by integrating innovative training tools like The Gun.