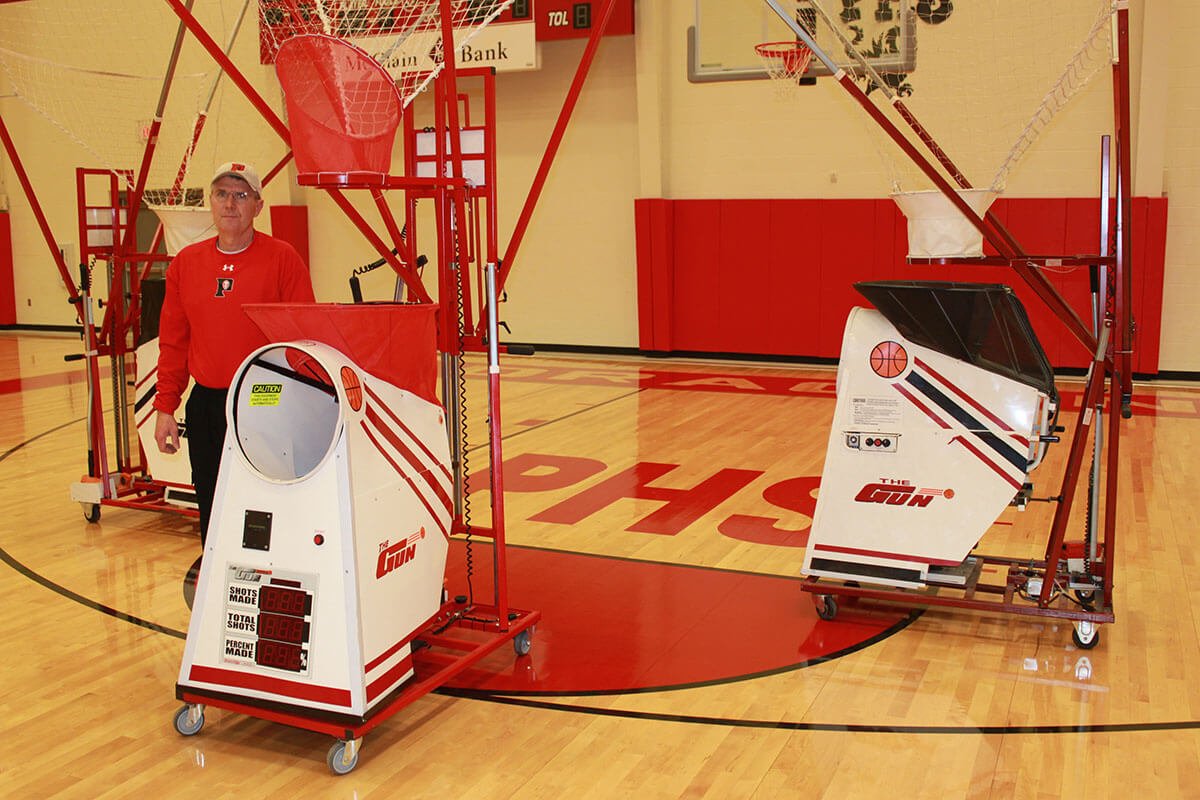 Coach Reimer
Purcell, Oklahoma – "My players averaged over 3,000 shots each on their own time during the month of September (2009) for a team total of 52,270 shots. This was only possible due to the Guns we have. What a resource." – Coach Lee Reimer, Head Boys Coach at Purcell High School in Oklahoma referring to his 6000 Series Gun he purchased in 2002 and his BRAND NEW 8000 Series Gun he ordered in September of this year.
Shoot-A-Way is honored to have helped the best coaches in the country reach their goals with the release of the 6000 Series Gun almost 10 years ago. With over 10,000 Guns nation-wide, including 29 of 30 NBA teams and nearly all the Division 1 Colleges in the Nation, we surely expect the 6000 Series to continue helping coaches change the way they practice shooting. We expect the ALL NEW 8000 Series GUN, with multiple upgrades that make the #1 shooting aid in the world even better to improve the way coaches teach shooting.
The 8000 Series is enhanced with a completely new user interface that includes spot-to-spot capabilities, onboard ticket printer which prints real time shooting workout stats, and a multi-function wireless remote for easy use anywhere in the gym. Even with the upgrades, the 8000 Series Gun still comes with the continued reliability of a full 5 year warranty and the option of customized school logo and colors at no extra charge. Coach Reimer says, "The 8000 Series Gun is the most amazing machine he has ever seen."
With the need for specificity in shooting workouts, the new computerized board gives you and your players fingertip control of each shooting session. Now you can work on specific shots you will be getting in games! Not only can you tap into the existing pre-programmed drills, such as elbow-to-elbow or slot-to corner, but you also have the capability to customize the entire workout by selecting the number of shots you want from any spot around the perimeter. If you're looking for positive repetition, the new "challenge" button will require a certain amount of shots to be made before the Gun will move to the next spot. This influences your players to focus on successful repetition rather than just getting 500 shots in. The 5 function wireless remote gives you the power to change the time delay between each pass, which means you can change drills on the fly. At the end of each workout, the workout printer puts instant feedback in your hand by printing a workout receipt that includes total shots, shots made, and shooting percentage. These three options are just a few of the changes on the 8000 Series and give you and your players the ability to take advantage of specificity, efficiency, and immediate feedback in every workout!